Happy New Year, you guys! I'm still itching to blog about something because I'm so pissed, but I do not want to post something negative for my first entry in 2011! I'll save it for my next entry. So yeah, I'll just (photo) blog about my New Year in Mindoro!
So apparently, I celebrated New Year in Mindoro. We didn't celebrate it at our own house tho, our house is in Victoria. We were at my Lolo's house in Calapan. My Lolo's place is a really great place if you just want to break away from the busy city life! The surrounding is just so green, you can hear the insects at night, you can hear the birds chirping and you can feel the fresh and cold air! I seriously didn't want to leave Mindoro yet, but I had to. :( So here, photos!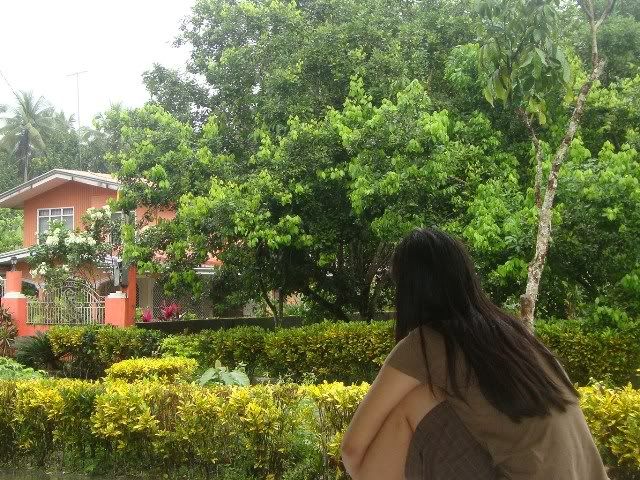 That's my sister, Krizza! Can you see how green the place is? Front, back, left, right. All green. All trees!
Here are the foods! This New Year is extra special because it was the first time that we cooked/prepared the foods! Haha! When we celebrate New Years at our house, we usually just order ready to eat foods. When we celebrate New Year here in Manila, my Titas are the ones who do all the cooking! Since we don't know what else and how to cook, we just prepared spaghetti, lumpia, gelatin, refrigerated cake, fruit salad, ice cream, marshmallow and potato balls (not in the picture).
Here's a photo of me and the sibs with Lolo. It was also his birthday, btw! :) He's so happy that he was able to celebrate his birthday and NY with us after such a long time! He celebrates his birthday in Canada ever since he migrated there, this is the first after years and years!
Krizza, Lolo, Kiara and Me. Kennon hates taking photos! LOL.
Here's the spaghetti we cooked! I'm so proud because it was good! LOL. First time!! :))))
So that's how we celebrated New Year's Eve. HAPPY NEW YEAR, again!