*Mic test*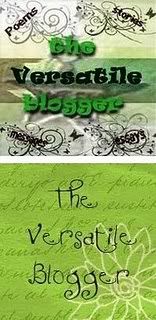 To accept the Versatile Blogger Award there are some rules to follow:
1. Thank and link back to who gave you the award.
2. Share seven things about yourself.
3. Pass it along to seven blogs you've recently discovered and enjoy.
4. Leave your recipients a note, telling them about the award.
So.. Here are seven things about me.
I don't really like doing this kind of stuff, but since I really want to blog but I have nothing to blog about, I decided to give it a go. Two bloggers gave me the award after all. I am so touched you girls! :P

I used to finish a book in one sitting, but now I still haven't finished the book which I bought almost two months ago. I wonder where my love for reading go?

I'm really feeling guilty and confused about something right now.

I'm turning 24 this year and I still don't know what I REALLY want to do in my life. I know I want to leave the country, but I still don't know what I want to do in

wherever

country I'd be able to go.

I have trust issues. -_- I find it really hard to trust someone, to open up to someone.

I, along with my friends from school, have been eating at this Korean Mart/Restaurant for almost 2 weeks now. Cheese Ramen, Seafood Ramen, Jang Geum Chicken, Bulgogi Rice, Instant Ramen, Peppero, Korean Chocolates, Instant Ramen, Korean Coffee. Ahhh. Everything Korean, I love!

When I was in 2nd grade until 4th grade, I was in this relationship with a my classmate's older brother. Yes, that early. We used to write letter for each other but we rarely talked during those years that we were sending each other letters. lol. Our teachers knew about it and they used to tease us non stop. Although we didn't have the official label, I really consider him as my first boyfriend. Hahaha!
Sorry, I'm not gonna tag anyone anymore. I'm cool like that e! lol