So I finally managed to take a photo of my bag! I'm finally posting my What's In My Bag entry! Lol. I think I posted something like this on my old old blog. So here it is! Finally! (
Alex
, naunahan kita:P)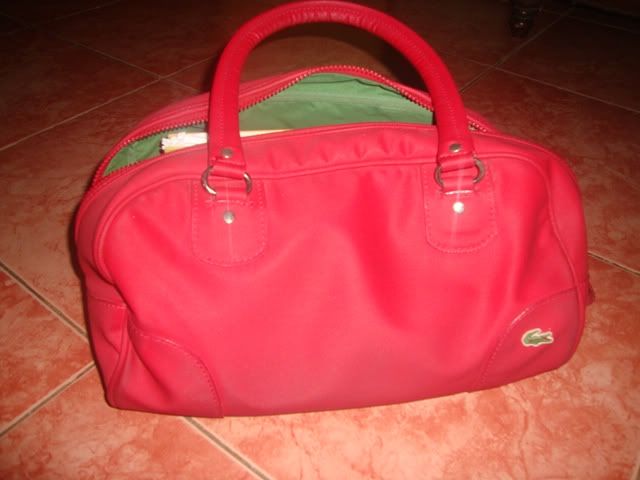 This is my overused bag. My Mom gave this to me a month or two after I was hired in 2009. I love it because it's big and I can put so much stuff in there! I love big bags. I friends would always tease me because I always use big bags. So here, let me show you how it looks inside.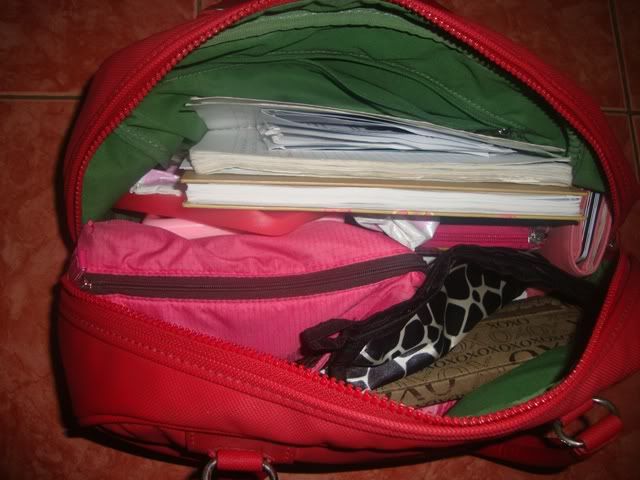 My bag normally looks messier than how it looks in the photo. Haha! Here are the items you can find inside:
1. My Etude House make up pouch. I'm not sharing what's inside the pouch, I'll prolly make a separate entry for that. Or not. :P
2. Pencil Case. I'm recently obsessing on pens. I buy a lot of them. I'm on the search of the perfect pen for me. Lmao. It is also where I put my alcohol and sanitizer.
3. Green Apple Notebook. It is where I've written notes from the previous module. I use the remaining pages as scratch for this module I'm taking right now.
4. Ecochic Notebook. I got it from Expressions! I just love the design and the quality of the paper!
5. Tisyu! :D
6. Umbrella. I finally learned that I should always bring one. Ha!
7. Sunflower by Elizabeth Arden perfume. I got it as a Christmas gift from my Tita Ninang. I love how it smells but it doesn't last long, I think.
8. My wallet which badly needs a replacement. LOL
9. Cellphone Pouch.
10. Another wallet.
11. Mirror! Of course it has to be pink! But the stand is broken. :(
12. Comb.
Normally, I have an shirt in my bag because it is what we wear inside the school. So there you go! I finally posted a WINMB entry! Hooraaay! Blog hopping and review for tomorrow's oral and long exam. Wish me luck! :)
P.S.
Did I mention that my favorite color is pink? :P